test :
Articles : February 2022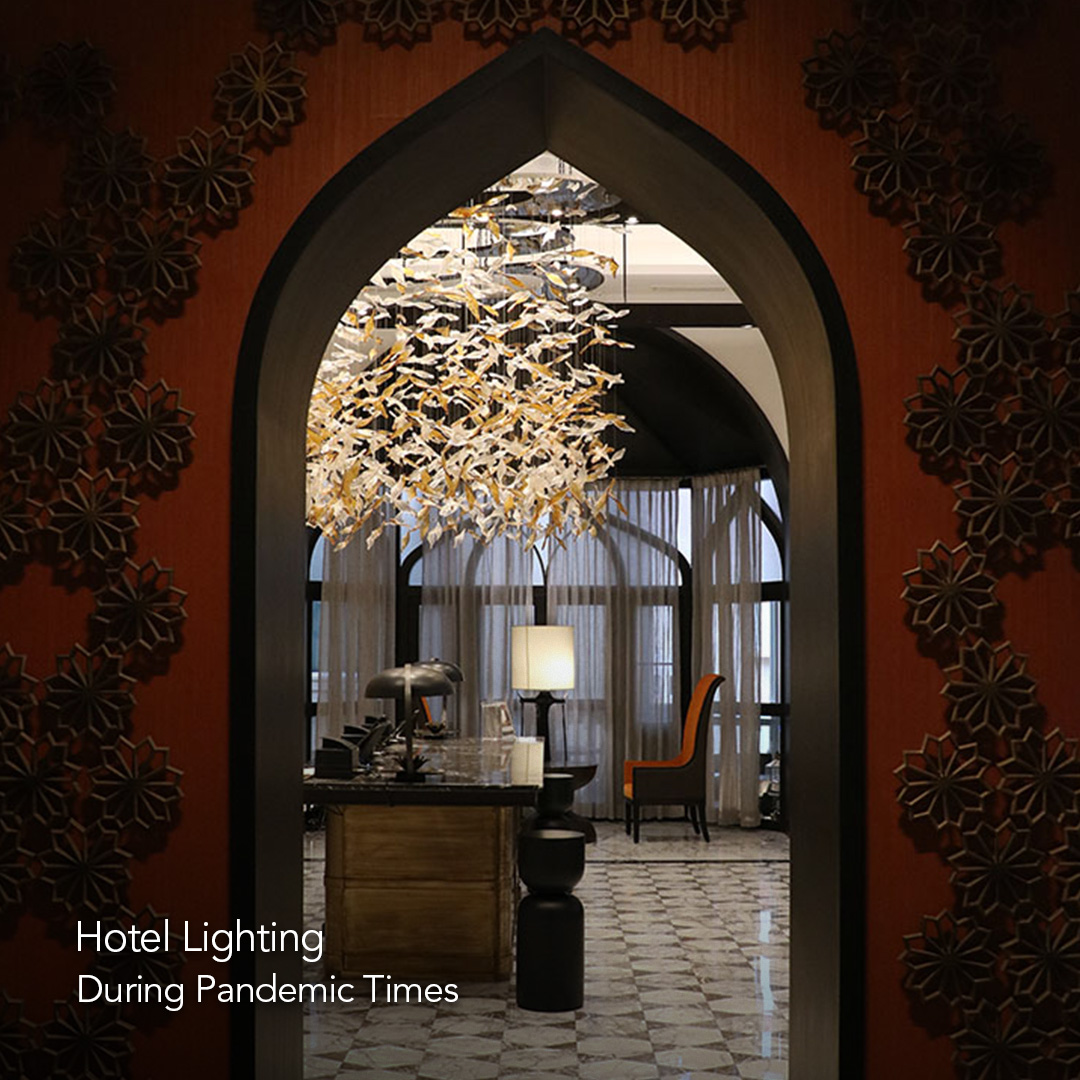 With changing times, hospitality spaces have seen a shift in approach to design, where visits to hotels are associated with memories- whether it be for a celebration, a holiday or just a change of pace. Lighting makes spaces look warm, welcoming and sets off the initial impression of the hospitality experience. It is designed to be multi-functional and therefore, versatility in lighting is important in hotel design. The aim is to create a lighting experience that is visually appealing, warm and inviting, targeted towards elevating the hospitality experience which encourages customers to frequent their visits to the space.

Trends in Hotel Lighting
Human-centric lighting is a widely accepted and implemented trend as lighting has to adapt to change to serve diverse needs. It must compliment the materials, themes and fabrics by adhering to the same colour tone as the interiors of the space. Hotel lighting also focuses on using daylight as much as possible. Daylight is known to instigate feelings of joy and contentment; it is where architecture and lighting meet as an attempt to manipulate daylight to meet the design intent. As the day transitions into evening and then night, lighting must adapt to its ambience by assigning presets that make this shift in mood seamless.

Quality of Lighting Fixtures
Since lighting should be integrated with the architecture of the specific hotel brand, the process of conceptualizing lighting in environments is now more design intensive. The value of good quality fixtures never goes unnoticed; longevity of lighting is ensured by using high-end fixtures which promise durability along with aesthetic appeal. Energy efficiency is the need of the hour, and it is economical and beneficial to hotels in the long run. As hoteliers recognise the need to invest in advanced technology, the quality of lighting in hotels is prioritized higher than the time it would take to execute the said design.

Suitability for Spaces
Luxury hotel rooms are a sanctuary of relaxation. Lighting must be multi-faceted and have multiple sources to create a setting for the customer to feel pampered. A combination of overhead reading lights, lamps, great vanity lighting and natural window light is a wholesome way of providing sufficient illumination without overdoing it. Another popular trend is integrating user-controlled dimmer lights to manipulate the level of brightness in the room. Light and art can be integrated to highlight frames or artifacts, and can be equipped with LED profile grazers to throw a uniform wash of light on the wall or accentuate through museum grade fixtures with certain inbuilt optics.
Lighting in corridors requires illumination for long hours and must be functional to identify the path to the rooms, stairs and lift lobbies. Many decorative compact fluorescent fixtures as wall sconces or surface mount lights are available for strategic lighting. LED lights are preferable for this purpose as they can function for long hours without producing much heat in closed spaces and in making the corridor seem higher and interpreting it as shorter.
It is important to build a unique brand identity for a hospitality space to identify with. Some lighting concepts have concealed forms that only draw attention to signature interior elements and signages.  It can be integrated with other details to enhance the ambience and only its effects are visible. This, then further influences how one views the space through this layered light. While some bespoke lighting fixtures are statement pieces and meant to become the hotel's identity, it goes to show the importance of impactful design. Layering ambient lighting and luxury fixtures, ceiling chandeliers and statement pendant lights are frequently seen in hotel hobbies and are getting more innovative with passing trends. Design is conclusive and definitive; and the lighting of a space reflects that.

A Holistic Experience
Investing in wireless lighting controls has seen more action in recent times as it is a means to combine lighting controls simultaneously with occupancy sensors. Advanced lighting control systems provide an instant change of intensities, combinations and colours. Including these provisions, a multifunctional control unit tweaks settings pertaining to blinds/curtains and AC system, integrating it with lighting presets. Such technologies save time and costs associated with concealing wires behind walls and ceilings, and makes it easier to reconfigure spaces in the future.
The takeaway is to curate hospitality spaces with required and specific lighting levels and colour temperatures. The pandemic has brought about the need to be sustainable in the long run using sensible fixtures. Appropriate illumination must provide the user with a feeling of complete relaxation and comfort. Lights of assorted lumens and functions are used in tandem to create a setting, which is operable with the click of a button. This technique is used in various scenes in hospitality projects to create contrasts and emphasize the colours and textures of the space.