test :
Articles : November 2021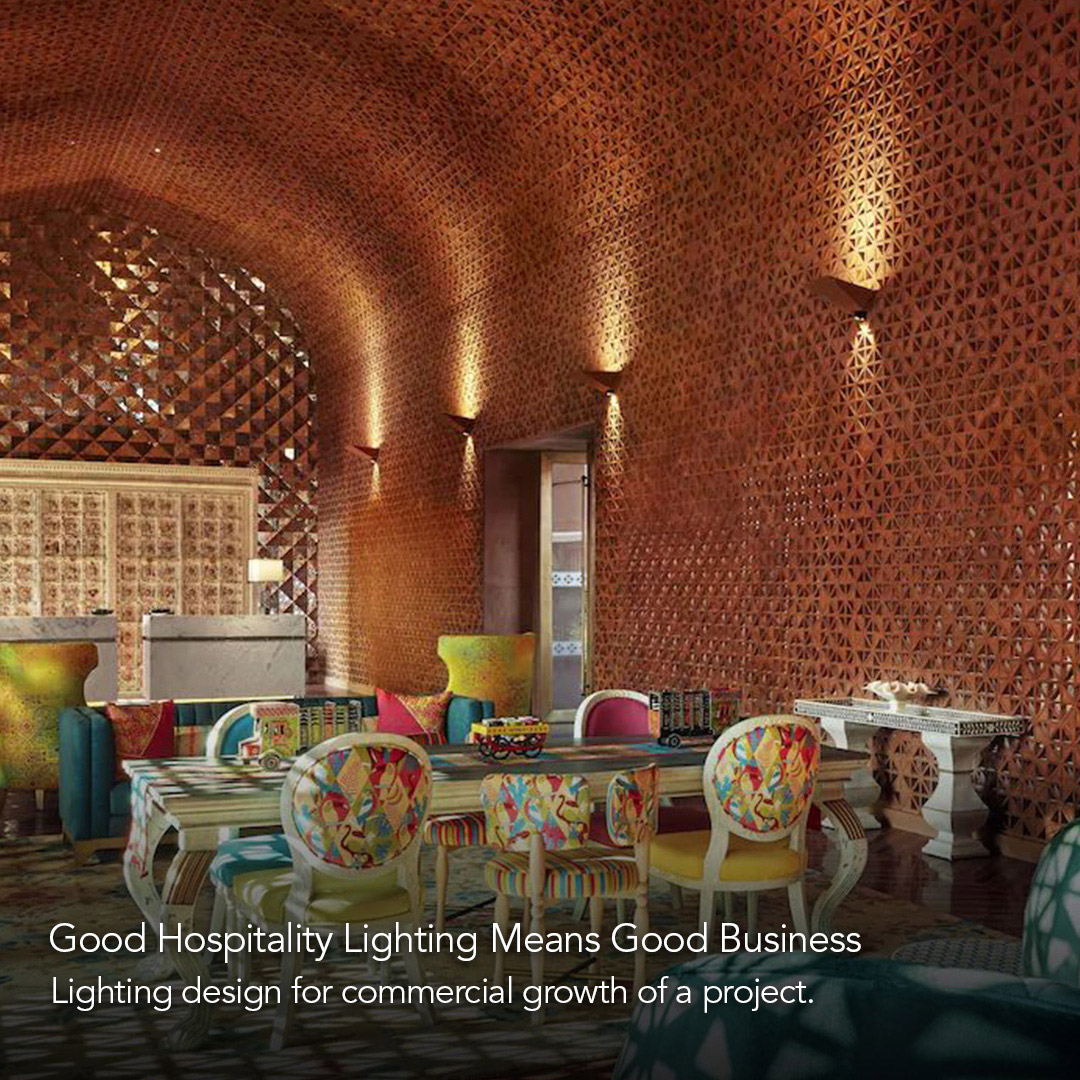 Most visits to hotels are associated with memories- whether it be for a celebration, a holiday or just a change of pace. Lighting makes the space look warm, welcoming and sets the initial impression of the hospitality experience. It is designed to be multi-functional; versatility in light is important in interior lighting design. 
The hospitality industry began to focus on lighting in the early 70's in western countries, so much so that illumination experts from theatres were called to do hotel lighting design projects. The aim has been to create visually appealing, warm, and inviting lighting that elevates the hospitality experience, encouraging customers to frequent their visits to the space.
Understanding Lighting Design
Impressive and effective hospitality lighting is gauged by its visual appeal and ability to assist with high concentration tasks. Designers identify the visual functions, design bespoke lighting schemes for them and then work task lighting into an overall lighting design program that supports functionality. Customers often look for appropriate lighting, especially in restaurants, with sufficient illumination. A motley of ceiling materials is used in hospitality spaces, from perforated acoustic tiles to decorative and ornamental ceilings. In addition, some areas are designed to suit a flexible furniture layout, where lighting is also kept mobile to fit the ad-hoc layout for any event. For example, ceiling lighting design often comprises gimbal lights on a ceiling-mounted track system, that may be positioned as per requirement.  
The Indian Market
The cost-effectiveness of any commercial decision is crucial; hence the debate of prioritizing expensive lighting fixtures over brand value is evident. Although the capital cost of buying high-end fixtures is very high, their maintenance and energy costs are much higher annually. Hoteliers and retailers have become responsive to lighting effects on brand value and, hence, devote time and capital to buying quality products. By investing in good quality lighting fixtures and energy-efficient lighting systems, they will save money in the larger picture.
Today, the Indian market is the centre of global attention, with hoteliers eying developments and government decisions, discussions and policy debates on issues such as Foreign Direct Investment. FDI in the modern commercial context would help greater cash flow for the hospitality industry, which would enable the design fraternity to commence lighting design for the pre-construction phase of a project.
A Holistic Approach
It is essential to build a unique brand identity for a hospitality space. Some lighting concepts have concealed forms that only draw attention to signature interior elements and signages. It can be integrated with other details to enhance the ambience, and only its effects are visible. This further influences how one views the space through this layered light. The layering of ambient lighting and luxury fixtures, ceiling chandeliers and statement pendant lights is frequently seen in hotel hobbies and is transforming with innovating in trends. Design is conclusive and definitive and the lighting of a space reflects that.
The takeaway is to curate hospitality spaces with required and specific lighting levels and colour temperatures to suit the overall brand identity. Design needs to be sustainable in the long run using sensible fixtures and providing the user with complete relaxation and comfort. Lights of assorted lumens and functions are used in tandem to create a setting, which is operable with the click of a button. This technique is used in various scenes in hospitality projects to create contrasts and emphasize the colours and textures of the space. While some bespoke lighting fixtures are statement pieces and meant to become the hotel's identity, it shows the importance of impactful design.
Points to be noted:
With intentional lighting, guests are more likely to remember a well lit hospitality project in comparison to the adjacent competition. This will assist in recurring business opportunities.

Spaces that influence people emotionally ensure a referral to other guests and a cohesive and loyal guest base.

Brand consistency is valued by the guests which results in geographical advantage